Mastodon, Webcomics, and Updates
May 8, 2023
Hello! A lot has happened since my last blog post, but school and other things have left me busy and unable to make posts for a while. Now I can finally catch up here!
---
Mastodon and toot.garden
Recently I joined a new social media space called Mastodon! It's very different from other social media because it's part of the Fediverse. I felt quite confused at first, but this guide "The Compassionate User's Guide to Mastodon" helped me a lot with learning how to navigate it. Essentially, instead of a centralized server hub, Mastodon hosts multiple servers called "instances". An instance usually focuses on a topic like art, gaming, music, or anything really! This is where you make an account, its tied to an instance. But it's great because anyone from any instance can interact with each other, and you can also easily move instances at any time! The article described it as going to a party, and you go with a specific group of friends at first. But you can always leave to mingle and join another group, and you are never stopped from talking with anyone. So far I've had a lot of fun, and this is a much healthier social media experience than the ones I've had on Instagram and other spaces. There is no algorithm for the timeline, you can curate your experience to be locally in your instance or with anyone, explore hashtags, bookmark posts you want to save, make friends, and more!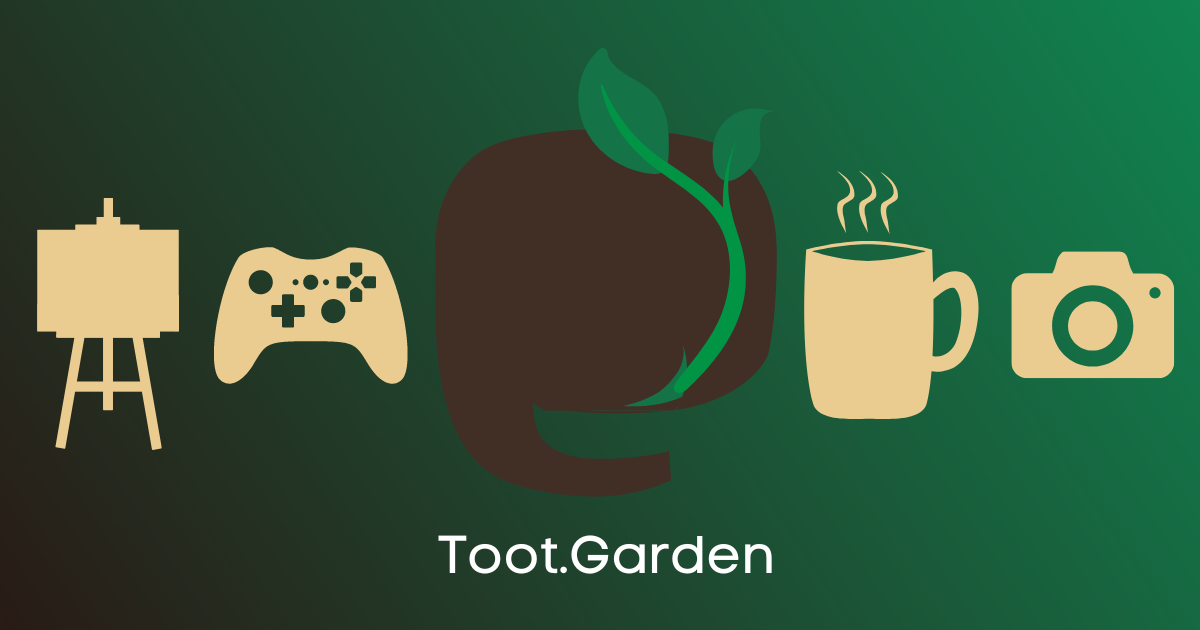 I joined the server toot.garden because its description of being a space for creative individuals who enjoy art and games appealed a lot to me! So far I have had a lot of fun, here's my account if you want to check it out. Other servers I'm eyeing include cutie.city, blorbo.social, donphan.social, and fandom.ink. I'm not sure if I want to manage multiple Mastodon accounts yet, but I definitely think I want to spend more time in toot.garden before trying to move instances.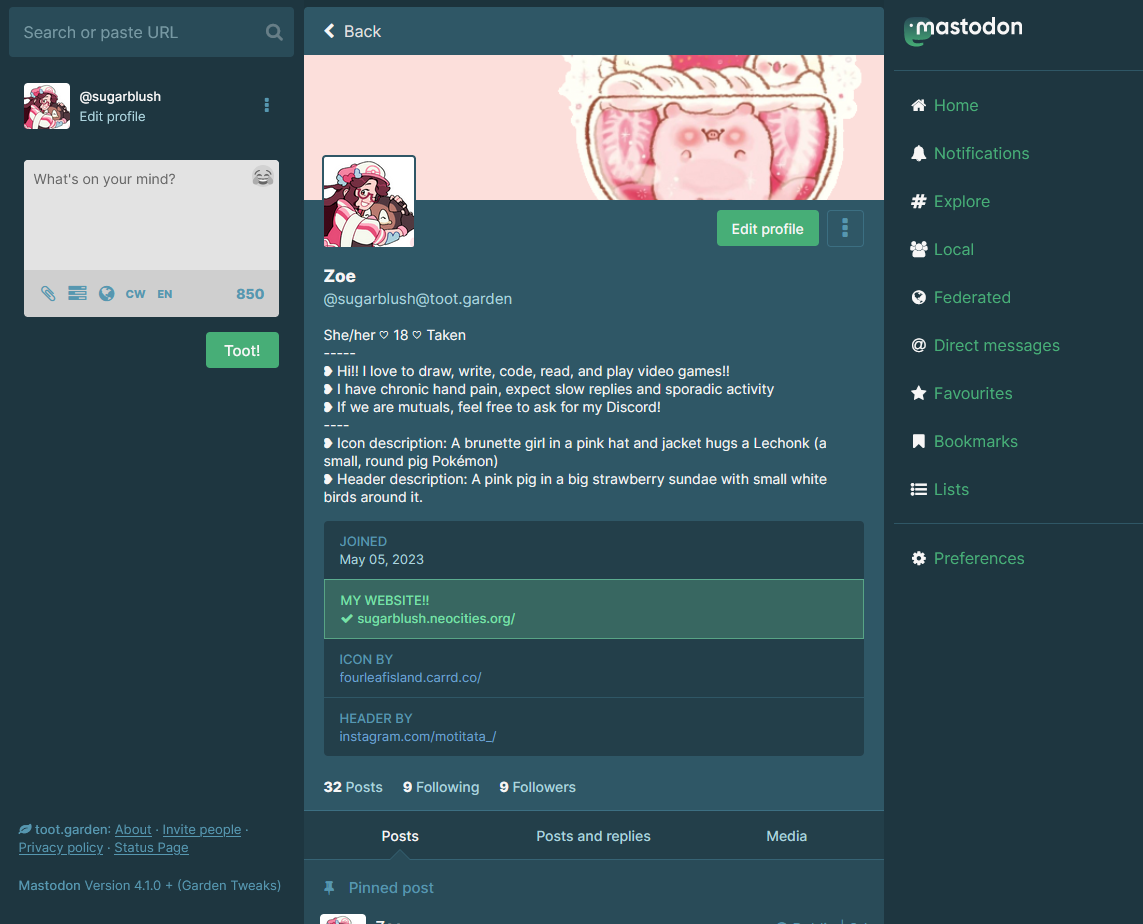 ---
Laika's Comet
Speaking of things that foster my creativity, on earth day a few weeks ago, a webcomic created by my favorite online artist dropped!! It's called Laika's Comet, and it's about a dog-girl named Laika who works as a mechanic in post-apocalyptic Furth (furry earth) while she and her adoptive father investigate the mysterious comet that is disrupting life on Furth. It's extremely sweet and wholesome, and I adore Willow's art style and color choices. Laika's Comet is very inspiring to me as an artist and aspiring webcomic creator. I really look forward to its updates and highly recommend everyone to read its first pages.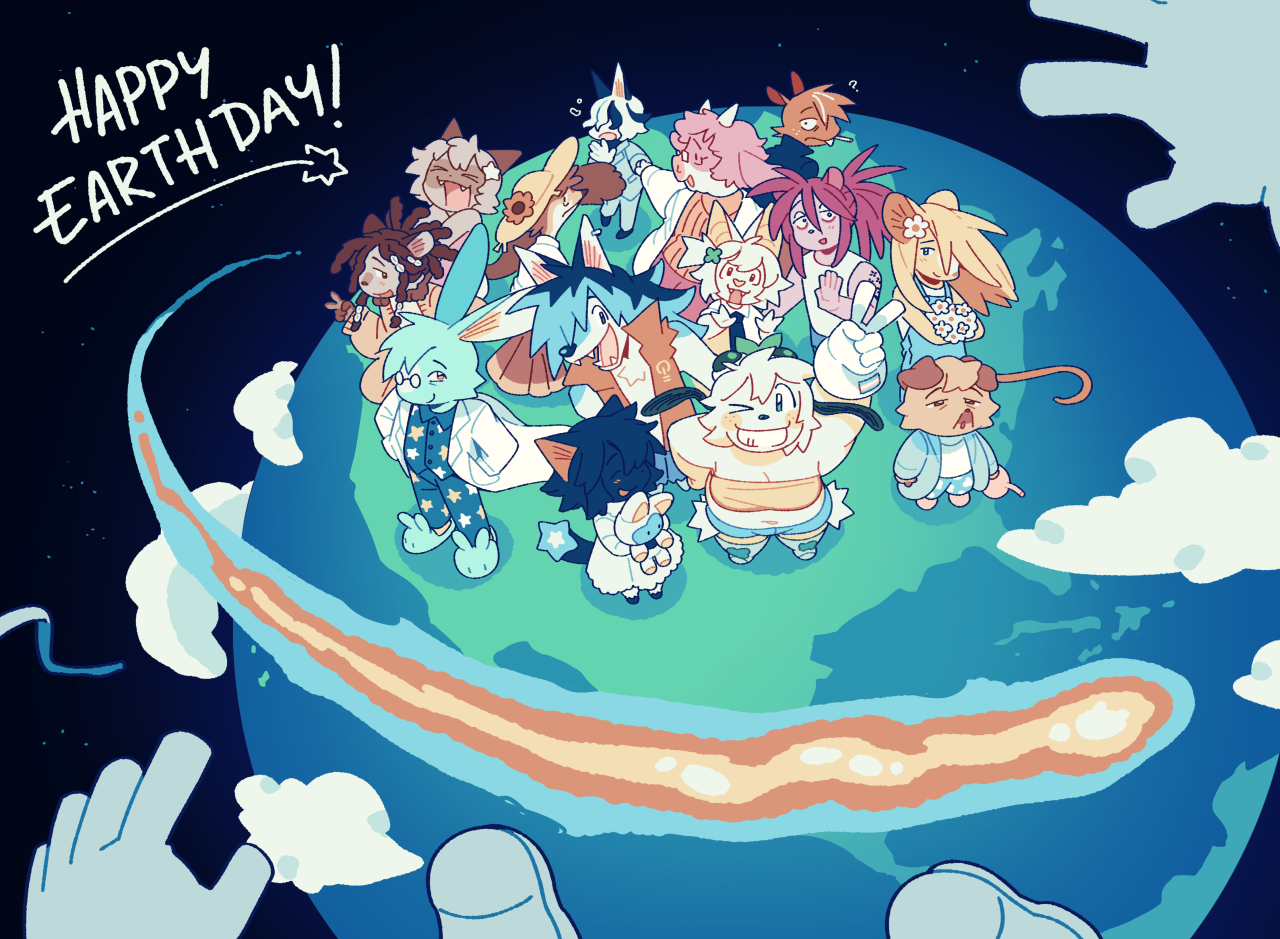 ---
My Witch Webcomic Story
I've been brainstorming more for my potential webcomic series Maya Magic/Science of Stardust. I haven't decided the name yet. But anyways, during a conversation with my boyfriend Cerdi, I had a breakthrough with how I could approach my story in a more creatively liberating way and it helped me to overcome a bit of writer's block I was having. I was getting hung up on the sci-fi elements of the story, I didn't enjoy feeling like I had to have Maya's inventions and technology have direct ties to the real world and its laws. I was putting a lot of pressure on myself that it had to make logical sense to how electricity works, but my boyfriend helped me to think that maybe the elements in my world like electricity and fire could be infused with magic as well; so I can make up my own rules for them if I want. After all, this isn't Earth anymore. After it got struck by the comet and everything was infused with this stardust, it's a new kind of Earth. I don't want to spoil too much, but I'm very excited for the creative journey of this story and the magical contraptions I hope to make.
---
Chronic Hand Pain & Self-Care Struggles
My hands have been getting worse, it's been a huge bummer for me lately. I haven't been able to do the things I love, and when I do, it just hurts more. I'm going to be seeing a new doctor soon and I really hope that she'll be able to point me in the right direction. I've been exerting more self-control, like not playing games even though I want to, and utilizing voice to text more often. I'll try to make it easier for myself to not indulge in self-destructive habits.
On the topic of self-care, I've been doing a bit more research on ADHD and strategies for adults with ADHD. I found this really helpful YouTube channel called How to ADHD and they have cute, short, and informative videos. I watched this video, and tried to make a draft of a Dopamenu (Dopamine Menu). Unfortunately, my hands started to hurt, so it might have to wait for a while. But I'm proud of myself for still trying to take that step.
---
New Activities and Performances!!
I've been trying to find new activities that can stimulate and motivate me while also not hurting my hands. I've been going for walks more often, and it's been a lot of fun. I've had delightful encounters with cute cats along the streets, they are very sweet. I also recently performed in my school's dance showcase! It's something that my class has been working on for the majority of the school year. It was a really invigorating experience and reminded me of how much I love to perform. I had a really fun time, and I think I'd love to take a dance class during my college experience. I will miss my high school dance teacher though, she is a delight.
Speaking of awesome teachers, yesterday I watched my retired theater teacher perform in a community theater play! It was a comedy about everything that can go wrong in a theater. Ironically, he starred as a narcissistic theatre director! I teased him in good fun that he was playing an exaggerated caricature of himself, but we both know that I'm very grateful for how much he empowered me and encouraged me when I was his student. He is probably the best teacher I've ever had, and I have told him that. All the actors did a fantastic job, I was engaged in the play the whole time. It was very cool to see him again and catch up.
I've also had fun spending time with friends! My friend from school just got a new game called Rain World, and I've had a lot of fun watching them stream and play it on discord. I look forward to when my hands feel better and I can play again. Rain World looks like a very aggravating and difficult game, but it's also so cute! The slug cats are adorable.
---
Overall, things are going well! I'm currently taking a break from coding on SugarBlush since typing for too long hurts my hands, but when they're feeling better I'd love to return to this. I've been making a few adjustments to the site, particularly updating my About Me and creating an About Site page as a replacement of my outdated Web Manifesto. I also got rid of my Contact page and put it on my Index instead! Whenever I get the chance, I'd love to bring all my creative visions to life. But right now I'm learning patience.
Wow, that's the end of the blog post! Here's a cute Lechonk for making it to the end :3