Hi there!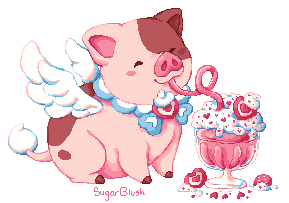 Welcome to my website, SugarBlush! I'm the webmaster, Zoe. I'm a hobby artist and web designer, and a (soon to be) Computer Science student! Nice to meet you! ♥

This is my personal website to help you learn more about me, and find my creative projects in one place! I hope you enjoy your time on my silly little space on the Web as much as I do.




---
Just dropping by and want to share your thoughts? Consider signing my Guestbook!! I love to recieve new comments ♥


Link to Me!
If you want to link to SugarBlush on your own website, feel free to use this cute button!

(Please don't hotlink, it steals my bandwidth and the image will be broken if I reorganize my files. Instead, download the image and host it on your own web server.)
Here is a code guide for how to include my button:
---
RSS Feed
You can follow my RSS Feed to keep up with site updates!

Credits
This is the second iteration of this site, and I created this code from scratch! Visit Web Dev Resources in Link Directory to see the tools I used.
---
Banner Source:
My banner image is by kanasanpo_1106 on Instagram. Thank you!! ♥
---
Pixel Asset Sources:
This includes any stamps, blinkies, and banners shown on this site, along with general pixel assets (except for the angel pig illustration at the top, I drew that!! ♥) These links range from various collections to specific creators.