Hi there!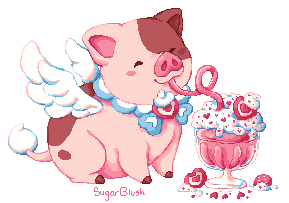 Welcome to my website, SugarBlush! I'm the webmaster, Zoe. I'm a hobby artist and web designer, and a (soon to be) Computer Science student! Nice to meet you! ♥

This is my personal website to help you learn more about me, and find my creative projects in one place! I hope you enjoy your time on my silly little space on the Web as much as I do.




---
Just dropping by and want to share your thoughts? Consider signing my Guestbook!! I love to recieve new comments ♥


Link to Me!
If you want to link to SugarBlush on your own website, feel free to use this cute button!

(Please download the image and host it on your own server.)
Here is a code guide for how to include my button:
---
RSS Feed
You can follow my RSS Feed to keep up with site updates!

Credits
This is the second iteration of this site, and I created this code from scratch! Visit Web Dev Resources to find the tools I used.
---
Header: My header image is from kawaiicupcakebliss on Tumblr. Thank you!! ♥
---
Divider: This strawberry divider you will see frequently is by LilMissSunBear

---
Stamps: It is safely assumed that most of my stamps come from Bonnibel's Graphic Collection. If I find the original source of a specific stamp, clicking on the stamp will redirect you to it.
---
Misc Assets: Unless the source of the graphic isn't known, clicking on it will redirect the user to its original source! Please note that there are graphics I have made myself, like the angel pig illustration at the top. Those fall under my Copyright
Contact Me
Here are different ways we can get in touch!




---